The Carnival of Granville
Taking place in a little coastal city in Normandy, the Carnival of Granville is one of the biggest of its kind in France. Its annual celebrations last five days in February or March. Depending on the Christian calendar of the year. Since Fat Tuesday marks the last day of Carnival. Through "cavalcades" (parades on the streets), balls, costumes, or marching bands, the streets of Granville become the funniest place to be for locals and visitors. Who come in larger numbers every year to admire chariots and costumed participants.
Why did Granville's locals start this?
The Granville Carnival holds a dual origin. As it is related to a religious tradition as much as a local one. Which makes it so important locally.
Carnivals are quite common in France. And although there isn't one as big as Granville. The Christian tradition, quite predominant in France, makes this event known by all even if most cities aren't holding parades. Carnivals, for many, only happen on "Fat Tuesday", the last day before Lent. A period during which Christians may fast or eat less. In reference to the forty days Jesus Christ spent in the desert before Easter. As a consequence, it is tradition for church-goers to eat very well and party for a full week before the fasting period. A tradition in which carnivals fits in.
But in Granville, Carnival day wasn't just for Christians. It also happened to be a few days before fishermen had to leave for long trips at sea. To Newfoundland (Canada) or Saint-Pierre-and-Michelson (French colonies near Canada). These trips were dangerous, quite long, and the boats wouldn't return before six months. Therefore, the Carnival was a way to entertain fishermen and their families one last time. And soothe their fears about the upcoming trip. It is commonly recognized that, because of their willingness to party a lot before going at sea, Granville's fisherman highly contributed to make the Carnival successful.
Granville Port
If the first informal edition of Granville's Carnival took place centuries ago. The first record of a collective setting up celebrations, such as parades and events dates back to 1875. At the time, the Carnival was a local celebration, with only 8 horse-drawn chariots and a few bands. The main objective of the event, aside of bringing joy and gather locals, was to earn money for the poor. A goal shared with a lot of other celebrations at the time known as "charity parties".
How did Carnival of Granville keep going for so many years?
During the following years and until today, the Granville's Carnival kept happening because of motivated locals. Who turned the event into a tradition. They created a committee to organize the events. And any "Carnavalier" (a person who participates in the Carnival by parading or organizing) can give their opinion and be involved. The local's help to organize the Carnival isn't only wished, it's the key of success to the event. Which is why, since 2004, the committee is elected from all participants, regardless of age and experience. The committee will supervise every events, be responsible for the security, coordinate every acting part. And be in communication with the Mayor's office.
Chocalhos Pardalinho
Cowbell Manufacture in Portugal
At Chocalhos Pardalinho, each cowbell is the outcome of the hand work to shape an iron plate. And after that, to fuse it with copper in the kiln and to make the finishing work. Certainly, the final and special touch is the sound. Finally, using a metal or a wood clapper, the tone of the bell is fine-tune.
Locals also form "communitas" to conceive and build their own chariots, in secret until parade day. With skills passed down from older generations to new ones through families and friends. Similar traditions exist with costume-making communitas. The chariot building process lasts roughly six months. From September to March. During which forty chariots are build and animated for the parade – also called "cavalcade". The chariots can take any shape and size : boats, over-sized characters, pop-culture references, landscapes with animals… Anything is possible. It is common for Carnavaliers to get inspiration from local, national or international news for their chariots themes. For instance, some may use them as a message for climate change, politic life or inequalities. While some will prefer to celebrate a sport's win or a celebrity who made the headlines.
How big is the Carnival nowadays?
Today, Granville's Carnival attracts more than 150.000 visitors from all over France during its five days of celebrations. And around 3000 Carnavaliers dress up for the parades. On the 146th – and last edition so far – there were 45 chariots build exclusively for the event.
Carnival of Granville – Parade near Port
The Carnival, as we know it today, revolves around 3 types of events : cavalcades, marching bands and balls. Usually, the Carnival kicks off on Friday evening with a free concert to mark the beginning of the year's celebrations. It's on Saturday that the main tradition happens. When the Carnival King (an over-sized character made of paper mache representing a king) gets the "keys to the city" from the Mayor himself. Symbolically allowing the Carnavaliers to ignore most societal rules for the next few days.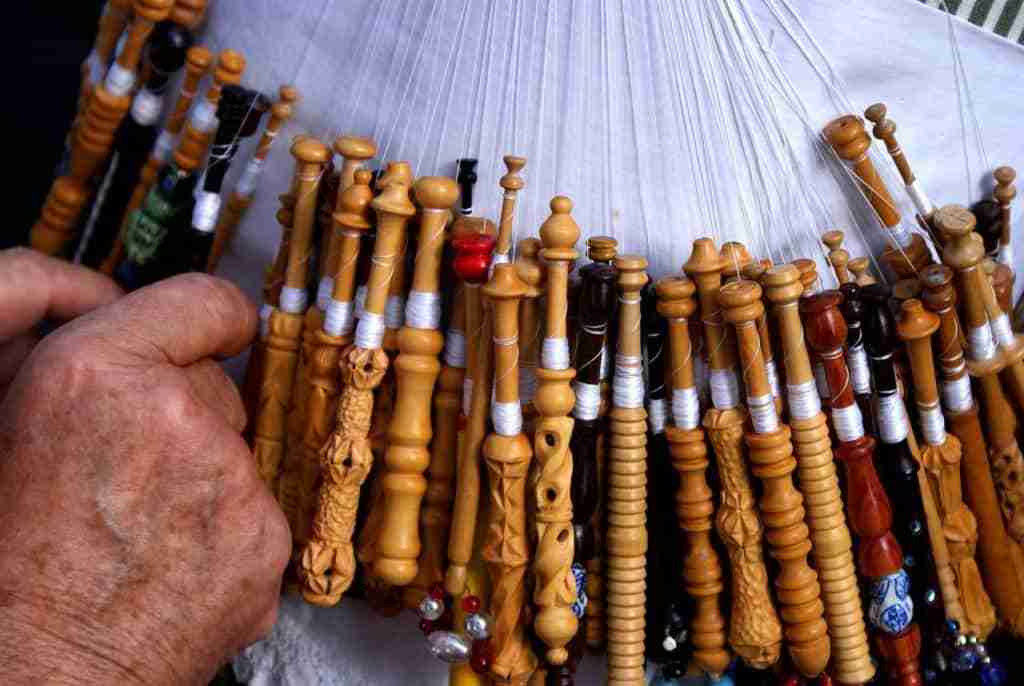 Artisans
On the same day, the kids get their own little cavalcade with marching bands and two chariots. One for the Carnival King and another for his Queen. These chariots are led by the "Ladies of Granville", young girls dressed with traditional costumes of Granville. Who bring the King and Queen to the "Carnival House", in the harbour. At night, the kids have their own ball while several bands play around the city.
On Sunday, the main cavalcades takes place in Granville's streets. There are several starting points with different chariots and carnavaliers. And all march towards the center of the city where a funfair is installed to entertain participants upon arrival. Because of their length, most cavalcades last until late in the evening. And are followed by a luminous parade that ends with fireworks.
The next day is the occasion for the organizers to enjoy the Carnival during two dedicated balls. Named "Daddy's ball" and "Mommy's ball" (not gender-restricted at all, of course!).
But wait – what is so special about this Carnival?
While this event may seem like most of France's carnivals. There are a couple of traditions that make Granville's Carnival so special.
The "Ladies of Granville" tradition is one of them. Ahead of the Carnival, young women among participants apply to become the future Carnival Queen or one of her two heirs. And to officially represent the Carnival for a year, quite like the Miss France pageant. Popular elections take place around November and winning girls get to be honoured during the first cavalcade of the week. While dressing in traditional outfits.
The "intrigues" are also something specific to Granville's Carnival. On the last evening and night, after the confetti fight, "intriguing folks" (people who fully dress in extravagant costumes) wander around town, in pubs, restaurants or even in other people's homes. Their goal is to avoid being recognized. But they have to talk to participants (called "intrigued folks") during the event. Answer to their questions and give them cues. Which is why most of them also disguise their voice. The winners are those who managed to stay anonymous overnight.
Why does it matter to protect it?
In 2016, the UNESCO decided to name Granville's Carnival for its Intangible Cultural Heritage of Humanity list. An honorific title that gives the event some protection and highlights its historical prominence. The decision acknowledged a few traits that the organization found important to protect :
Social practices that are at the heart of the Carnival's management. With a real investment from participants from all social backgrounds, and the help of teachers, tradespeople and politics.
Strong human values, like equality, tolerance. And freedom of expression are important to all and are strictly respected during the event. The latter is the most important one as creativity is encouraged. Humour and satire are key words, and any cultural diversity is welcomed.
The use and passing of Craft knowledge on chariots building. And costume-making through generations in families, but also at school and between groups during the building process.
How important are Carnivals in France? Is it more important in Granville?
It is important to know that Granville's Carnival isn't the only big celebration in France. Dunkerque and Nice also hold huge Carnivals around Fat Tuesday and their size are comparable to Granville's. Therefore, the Carnival's tradition is something important in France. Especially for kids who participate in smaller parades in most cities in France.
But in Granville, the importance of this tradition is exacerbated because of its strong history. Since Granville is located in a region where most people tend to live in the same area generation after generation, most people were introduced to this tradition through their parents and grand-parents. The carnival is therefore part of most people's family bonds and an element that gives a sense of community. For most Granvillais (i.e. Granville's inhabitants), it's the event of the year and it's impossible to miss it. Since everyone is talking about what they will be doing this year and what they did in the previous editions. It's also the occasion for Granvillais who moved away to come back home and see their family.
But in the end, what is the most important to Carnavaliers is the joy that the event gives to its participants. It's a way to escape from reality for a few days. To stop caring about a few societal rules, laugh about everything. And in a way, to be a child once again.
Resume
The Carnival of Granville is one of the biggest and oldest of its kind in France. It originated centuries ago when the religious celebration of Fat Tuesday and the local departure of fishermen started to collide. And has been going on ever since. During five days in February or March, a lot of events take place such as "cavalcades" (parades on the streets), balls, costumes or marching bands.
On this occasion the streets of Granville, a small city in Normandy, become the funniest place to be for locals and visitors. Who come in larger numbers every year (around 150.000 in the latest edition) to admire chariots and costumed participants. As a part of most families history, the Carnival's traditions like chariots building. And costume-making got transmitted from generation to generation in family and friend circles. This is why, in 2016, the UNESCO decided to name Granville's Carnival for its Intangible Cultural Heritage of Humanity list.